Please note, the average temperature inside the rink is 50 degrees. Idaho IceWorld encourages skaters and spectators to dress accordingly for warmth and safety.
Tips to Get Started on the Right Blade!
What to Wear   
Tall, lightweight socks
Warm up suit, sweater or sweatshirt. Preschoolers can wear snow pants.
Gloves
Helmet (not mandatory, but strongly recommended). Multi-sport helmets are acceptable.  Aerodynamic models are not recommended. Click here for details. Complimentary helmets are available at Idaho IceWorld's Skate Rental Counter.
Complementary rental skates are available to registered Learn to Skate students for use during class times. Rental skates do not fit the same and the condition of the blade will vary each time.  For a consistent fit and quality, reasonably priced beginner level skates can be purchase at LAX ID located inside Idaho IceWorld.  Online skate purchases are not recommended, as many styles are not safe and proper fitting cannot be established.

Check-in
All students are asked to arrive a minimum of 20 minutes early on the first day of class.  Skaters will receive an I.D. badge at a table located just inside the entrance.  This badge will be required at every class.  Keep it in a safe place!  Immediately report lost or damaged badges to Kelley via email.
Let's Get Ready! 
Once your skater has an I.D. badge, proceed to the Skate Rental Counter, show your badge and obtain complimentary rental skates.  If your skater has their own skates, skip this step.
Proceed to the lower lobby and get all those skating duds on.  Skates should go on last.  Most skaters need assistance with lacing skates.  To properly lace, tap your heel as far back into the boot as possible.  Pull the tongue up and secure it straight before tucking it beside your foot.  Starting near the bottom of the laces, pull tightly each crisscrossing of the lace.  Then crisscross on the hooks.  It is important that the laces are snug through the ankle.  If your laces are too long, cross the extra lace neatly over the hooks.  Do not wind it around the ankle.  Loose-flying laces can cause accidents.  Effectively laced skates should provide enough room, with ankles flexed, to stick a finger between the back of the boot and your leg.
Make sure your I.D. badge is clipped on the outer layer of clothing in full view for your instructor. 
Orientation
It's always a good idea for beginner level skaters to learn basic safety before stepping onto the ice.  Have your skater watch this video and practice at home before arriving. 
Beginner level instructors will review these skills before taking to the ice for the first two classes.  Your instructor's name is located in the bottom left corner of your I.D. badge and is printed in red ink.  When it's time for your class to begin, look around the lower lobby for your instructor holding their name sign above their head.  Go to your assigned instructor and let the fun begin!  
Other Fun Facts about Learn to Skate 
Class Structure 
Idaho IceWorld strives to keep our student number low enough to allow for eager learners to have the opportunity to effectively watch and listen to their instructor.  Skaters should be prepared to listen closely, try the skill demonstrated, try it again and ALWAYS ask questions if they don't understand.  Instructors break the skills down into steps, demonstrated and offer suggestions for quick mastery.  People learn either by seeing, hearing or doing.  By knowing their learning style, skaters can get what they need out of every group lesson.
All classes are scheduled to last 30 minutes.  30 minutes of practice time is available either before the group instruction or immediately afterwards, depending on the level and which day your classes are held.
Wednesday Spuds & Tater Tots, Snowplow Sam levels 1-4 and Basic 1 practice for 30 minutes after instruction.
Wednesday Basic 2-6 practice 30 minutes before instruction.
Pre-Free Skate and Free Skate 1-6 are now being offered through the Boise Figure Skating Club.  Go to https://www.boisefsc.com/ for details.
Evaluation 
Skaters are evaluated during each class.  Instructors might provide a written mid-session review, but not always.  Report Cards are handed out at the end of class on the second to the last day of the session.  Certificates of Participation, Certificates of Achievement and level badges are handed out on the last day of each session.
Skating is not an easy sport.  Mastery of the skills takes patience, dedication and hard work!  The Learn to Skate USA program believes all skaters should progress through the curriculum at their own rates.  They should never feel overwhelmed or discouraged, nor unchallenged and bored.  Every skating move has a prescribed passing standard (e.g., a one-foot glide needs to be held three times the skater's height in a balanced position to be considered passing).  Learning skills happens through three phases:
Introductory – new to the skater
Developmental – skill is noticeably better and stronger
Mastery – skater can perform skill 8 out of 10 times
Idaho IceWorld's Learn to Skate sessions are relatively short, allowing for convenient scheduling and affordability.  Due to the short sessions and curriculum complexity, levels are intended to be repeated.  The only 'failure' is not trying at all. Refer here for a better understanding and support.
Only when skills are mastered should a skater be allowed to move up to the next level.  We don't want to advance skaters without the proper foundation, setting them up for progressive successes.
See detailed descriptions of skills within the Skate Coach App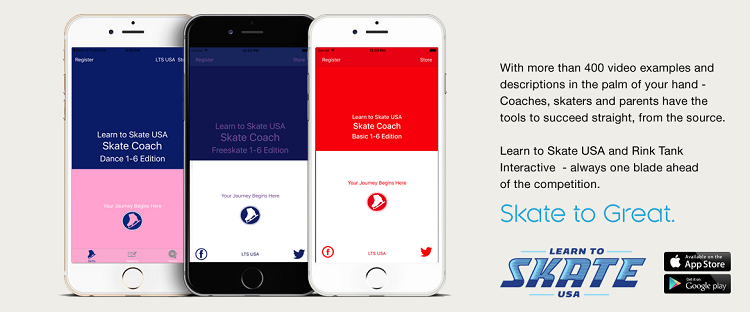 Make-Up Policy
No make-up classes are offered. In the event of an absence, one complimentary Public Skate Pass will be awarded per registered student, per session. Contact Kelley Canning via email to obtain your pass.  Include your skater's name, day of class, level, instructor and date missed.
Refund & Cancellation Policy
Idaho IceWorld is part of the City of Boise Parks and Recreation Department and we strictly adhere to the department's refund policy.
Scholarship Information
Partial scholarships are available for qualified youth, seniors and people with disabilities. Call 208-608-7680 for details or download an application form. You can help ensure all people in Boise have the same opportunity to participate by adding $1, $5, $10 or more to your registration payment. Donations are tax deductible.