Public Skate Hours
Public Skate at Idaho IceWorld is your time to enjoy skating with your friends and family. Skate times vary. 
Public Skate Admission
Adults
$7.00
Children (12 and Under)
$6.00
Senior Citizens (60 and Over)
$6.00
Children 3 and Under
No Admission (Pay Skate Rental Only)
Skate Rentals
$3.00
EZ Skater Rental
$4.00
Discounts/Coupons cannot be combined with other offers, promotions, or specials.
Tax Exempt: If you would like to claim tax-exempt status, an ST101 is required to be verified before your visit in order to facilitate your tax exempt payment upon arrival. To determine eligibility of tax exempt status and to make tax exempt arrangements ahead of time, please call (208) 608-7719.
Times are subject to change and/or cancellations. Please check our website calendar or call us ahead of time for possible last minute schedule changes, as updates or cancellations may occur due to private events, partnership obligations, or consecutive days of extreme heat during summer months. Payment in full is due at check-in.
NEW STARTER KIT FOR SKATERS! View flyer
Skating Attire
Helmets are optional but strongly recommended. Helmet with the cage is the best option for beginners.
Jackets should allow for easy mobility. Layering is the best option (undershirt, long sleeve shirt, jacket).
Make sure gloves or mittens fit properly and are waterproof.
Pants need to allow free movement and in the beginning levels offer some padding. Snow pants are a good option for starters.
Tall socks to protect from skate boot rubbing on bare skin.
Make sure skates are tied securely and snug at the ankle. Have blades sharpened once a series.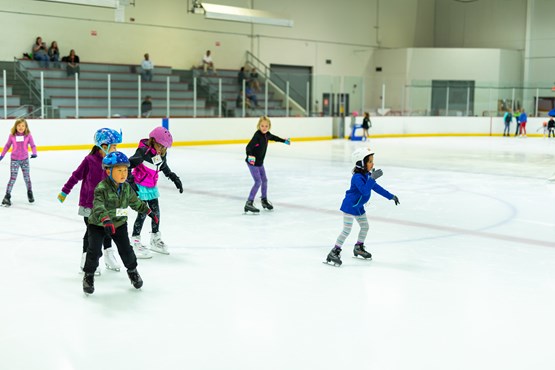 For questions or more information please call the Information Desk at (208) 608-7716.
Payment in full is due at check-in. Idaho IceWorld does not invoice. All customers must pay admission first in order to use the ice.
**Please note: Ice skates must be worn on the ice. Strollers are not allowed on the ice surface unless during a designated Parent-Tot Session.**